Archer Health Home Health Program
We specialize in providing skilled nursing services at home along with therapy, medical social work and nutritional guidance.
Our staff is dedicated to bringing you the level of expertise demanded to support the needs of each patient. With a team that is staffed with qualified professionals, you know you made the right choice in choosing to get healthcare at home:
Registered Nurses (RN)
Physical Therapists (PT)
Case Managers / Care Coordinators
Medical Social Workers (MSW)
Home Health Aides (HHA)
Occupational Therapist (OT)
Speech Therapist (ST)
Dietician / Nutritionist
Looking for quality health care services? You have come to the right place! Archer Health welcomes you with the right care solutions tailored to fit your specific needs. Our expert clinical team is always attentive, eager, and engaged to provide the individualized and efficient assistance you deserve.
In general, Home Health care provides a wide range of health care services that can be given in your home for an illness or injury. The service is usually less expensive, more convenient, and just as effective as care you get in a hospital or skilled nursing facility (SNF).
Approximately 80% of all home health visits are paid by Medicare. The Medicare program covers the elderly (those 65 and over) and individuals who have been disabled for two or more years. Medicare has the most restrictive requirements for payment of home health services. However, it is frequently the only resource the elderly have for needed care.
Medicare is not an entitlement program, but rather an insurance program and covers only certain situations and items that meet the program's criteria. After we determine your eligibility, we accept the following payment sources:
Medicare
Medicaid
Veterans Administration
Workers Compensation
HMOs and PPOs
Private Pay
For questions and inquiries, give us a call at toll-free: (800) 689-5049.
What should I expect from my home health care?
Doctor's orders are needed to start care. Once your doctor refers you for home health services, our Intake Coordinator will schedule an appointment and a clinician will come to your home and together you will set up a plan of care based on your healthcare needs and Goals.
Our clinicians will also talk to your doctor about your care and keep your doctor updated about your progress.
Examples of skilled home health services include:
Skilled Nursing
Physical Therapy
Occupational Therapy
Dietary Services
Medical Social Services
Home health/ Hospice Aide assistance
Wound Care and Wound Vacs
In-Home IV Therapy Services
Ostomy Care and Education
Behavioral Health Services
Lymphedema Program
In general, the goal of home health care is to treat an illness or injury. Home health care helps you:
Get better
Regain your independence
Become as self-sufficient as possible
Maintain your current condition or level of function
Slow decline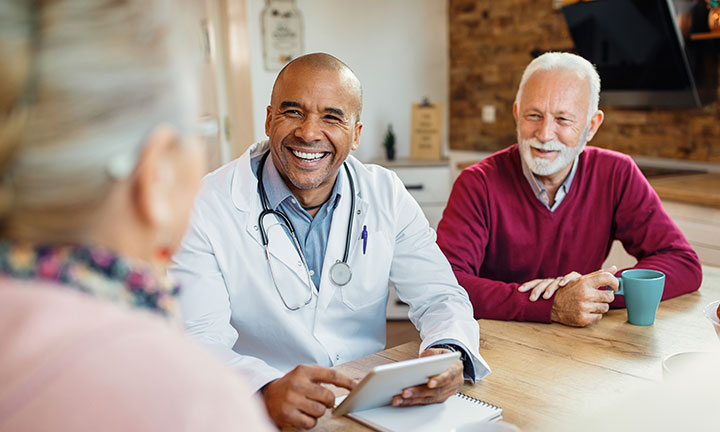 A few examples of what you can expect from any visit:
Assess what you're eating and drinking. (healthy eating habits)
Check your blood pressure, temperature, heart rate, and breathing.
Make sure you're taking prescriptions and any treatments correctly.
Inquire about your pain and other unpleasant symptoms.
Check your safety in the home.
Teach you about your care so you can take care of yourself.
Coordinate your care. This means communicating regularly with you, your doctor, and anyone else who provides you care
Criteria for admission to home health services.
Be essentially homebound (unable to leave home without a considerable taxing effort or able to leave home only for limited, essential medical appointments.)
Be under a physician's plan of treatment that specifies Home Health Services.
Require one or more of the primary services (nursing, physical therapy or speech therapy) on an intermittent basis.
Have an unstable (changeable) medical condition that will respond to treatment in a "reasonable" period of time.
Require services on a predictable basis of at least once per 30 days.
San Diego County
Including the outskirt locations such as Fallbrook, Bonsall, Parts of Pauma, Valley Center and Alpine.
Riverside County
Temecula, Murrieta, Perris, Lake Elsinore, Menifee, Hemet, and Winchester.